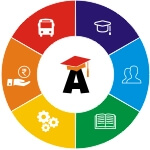 The best cloud-based solution for schools, colleges & universities is here – Admitek! And its Benefits are Drool-worthy.
Admitek is the most convenient and Easy-to-use Online Admission Software for Institutes looking to streamline & revolutionize their admission process.
It allows institutes to receive applications through the web. This results in lesser queues and manpower requirements at the institute resulting in reduced expenditures.
And because Admitek is beneficial for Both – The Applicants and The Institutes, it is Easier & Convenient for all.
Benefits of Admitek:
Some of the Benefits for the Applicants are:
No Long Queues for Applications
Instant Notifications – Selection, Merit List, Important Dates
Time Independent – Apply anytime within the date range
Fast, Convenient & Easy
Multiple Applications at One-Go
Time Saving
Single-window Information Source
SMS & Email Alerts for each transaction/event
In addition to above, Some of the Benefits for the Institutes are:
Reduced Manpower Requirements
Lesser Space Needed – as no one keeps waiting
Less Chaos – No more confused candidates looking for information
Highly Configurable System – Selection Criteria, Dates, Courses, etc.
Reduced Costs – Stationery (Forms & Receipts), Manpower & Resources, etc.
Automatic Payments – Zero chances of any miss outs
Automatic Merit List Generation – based on selection criteria
Advanced Reporting – All required data at a single click
Fast & Convenient way to streamline the entire process
However, Benefits are not limited to the above mentioned.
Moreover, Admitek is made to suit your Personal needs and so it is Highly Configurable with Customization Options Available.
Furthermore, Admitek has now diversified into a plethora of services e.g. Smart Class at affordable price, Language Lab, Admitek Online Payment for Schools, Colleges & everyone who wishes to venture into any of the above.
Thus, with these diversified services, Admitek wishes to provide the best service to the Online Admission System available in India. Most Noteworthy – Proudly Made in India, For India.
Admitek Representatives are available 24*7 for any Assistance. To know more about Admitek, Visit us at www.admitek.com or call us 033 4001 0000.
You may also wish to connect with us on our Social Media Platforms (Facebook, Google+ or Twitter).