Who We Are? What Do We Do?
Admitek is a Kolkata-based comprehensive service provider focused on the Education sector, having 10+ years experience in offering 360 degree solutions to schools, colleges & universities in relation to their day-to-day technological needs and requirements - starting from Online Admission System to complete Office Management ERP Software. We provide turn-key solutions in setting up Virtual & Smart Classrooms and Digital Language Labs and have advanced software to manage your Institute's Websites dynamically and collect regular Online Payments from students. We also expertise in providing security solutions like CCTV, Biometric Attendance Systems and Identity Cards. With a bundle of wondrous offerings, Admitek is the fastest growing solutions provider for educational institutions in India. Proudly Made in India, for India.
---
Featured Products & Services
---
Interested in our services? Contact Us today!
Get in touch with our executives for free demonstration, discounts & assistance today!
Contact Us
Just Arrived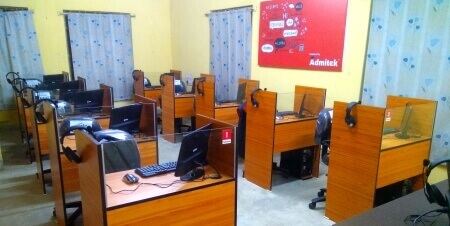 We recently finished installation of Admitek Speech Digital Language Lab at Malda GTTC for 10 Student Units. The installation was completed in 3 days under the strict supervision of the Principal, who was very happy to have the Admitek Speech Digital Language Lab as an asset at his prestigious institution.
Read More
Client Testimonials
Admitek has helped our college conduct online admissions for the academic year 2015-2016 flawlessly when none of the software were working properly. We are happy to have SevenM as our online admission partner.
Mr. Gouranga Biswas
OIC, Kushmandi Govt. College
" We came to Admitek with a dream for our Admission Process to be Online. You tuned in, that vision with your useful feedback and understanding, created an exceptionally helpful framework for us! We don't hear anything yet positive remarks! So once more, THANK YOU!"
Sri Pronoy Narjinari
TIC, Nathaniyal Murmu Memorial College